About the fitness rooms
In Morbærhaven we have two fitness rooms in the basement of Center 1. Here you will find equipment for various types of strength training, cardio training and martial arts.
There is currently no shower and changing room, but fortunately the distance to your home shower is not that long.
It is free to use the fitness rooms, but you must sign an user agreement for the fitness rooms to gain access. By contacting the administration office or the residents' office, you can obtain the user agreement, which must be read and signed in order to be granted access to the exercise rooms. If you have the opportunity to print yourself, you can download and print the user agreement here (Danish) / (English).
On Facebook we have a voluntarily organized group for people interested in exercise, you can find it here: Morbærhavens motionsgruppe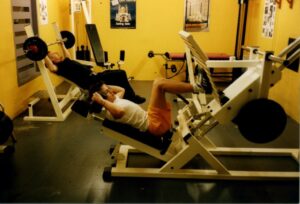 Conditions for use of the fitness rooms
§ 1 Only residents of Morbærhaven who have concluded an user agreement for Morbærhaven's fitness rooms or persons connected to the administration can use the exercise rooms.
§ 2 A resident must always be able to present a valid resident card when in the fitness rooms.
§ 3 Use of the fitness machines and equipment is at your own risk.
§ 4 Training in the fitness rooms must be done with indoor shoes (clean footwear).
§ 5 Music must be set at an acceptable level (max 80dB) for the sake of employees at AUB and other users of the fitness rooms. The music must be turned down upon request from others users or employees. See AUB's rules of order.
§ 6 The doors to the fitness rooms must always be closed.
§ 7 The last person to leave the room must turn off the lighting and music and make sure that doors and windows are properly closed.
§ 8 It's prohibited to be under the influence of illicit drugs in the fitness rooms.
§ 9 There is a total ban on smoking on the premises.
§ 10 The fitness rooms must

always

be left neat, clean and tidy. Weight plates, training mats, barbells/dumbbells etc. must be hung/put back in their proper place after use.
§ 11 If a member arrives in an unacceptable room or discovers errors, deficiencies or vandalism, the administration office must be contacted by email to aub@aub.dk.
§ 12 In the event of damage, faults on equipment or unintentional damage to equipment, the administration office must be contacted on the same day that the damage occurs by email to aub@aub.dk. The time, place and description of the error are to be included in the email, if possible a picture of the faulty or damaged equipment must be attached to facilitate easy correction. If this is neglected, the resident may be held liable for compensation.
§ 13 Pets and the like. may not be brought into the premises.